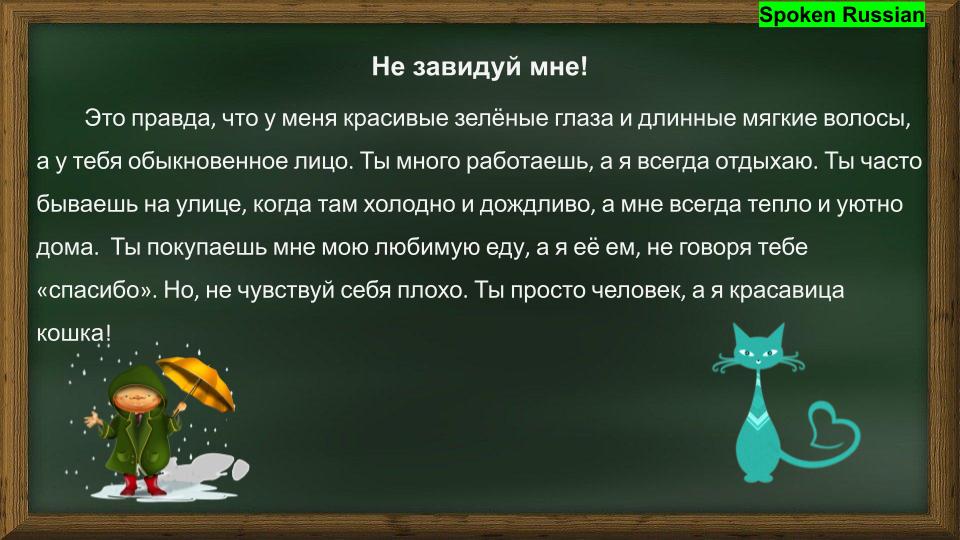 Не завидуй мне!
Это правда, что у меня красивые зелёные глаза и длинные мягкие волосы, а у тебя обыкновенное лицо. Ты много работаешь, а я всегда отдыхаю. Ты часто бываешь на улице, когда там холодно и дождливо, а мне всегда тепло и уютно дома. Ты покупаешь мне мою любимую еду, а я её ем, не говоря тебе «спасибо».
Но, не чувствуй себя плохо. Ты просто человек, а я красавица кошка!
Do not be jealous of me!
It is true, that I have beautiful long soft hair, and you only have an ordinary face. You work a lot, and I am always relaxing. You are often outside when it is cold and rainy, and I am always warm and cozy at home. You buy my favorite food for me, and I eat it without saying "thank you."
But, don't feel bad. You are only a human, and I am a beautiful cat.